Institutional Affiliate Program
The Institutional Affiliate (IA) Member program is designed to provide institutions and organizations value in conference attendance for its faculty/employees, sponsorship acknowledgements, and marketing throughout the year across iafcm.org and IACM's publications.
IA membership is critical in sustaining the health of Negotiation and Conflict Management Research (NCMR), which recently went Open Access. Your membership enables NCMR to be funded and grow while offering Platinum Open Access levels.
IA affiliation comes in Platinum, Gold, Silver, and Bronze levels of contributions.
Thank You to our IA Members!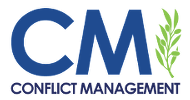 Institutional Sponsorships & Exhibitors
Physical Conferences
IACM 2023  |  Thessaloniki, Greece  |  JULY 9 - 12, 2023
*Sponsorship of IACM is tax deductible.
Please note that the higher levels of sponsorship will be displayed more prominently than levels below it.
Platinum Sponsor ($10,000):
Logo/Name displayed prominently in registration area and on all IACM conference publications
Premier sponsorship acknowledgement in direct emails to members and attendees pre- and post-conference
Sponsorship acknowledgement on IAfCM.org homepage, sponsorship page, and social media (Facebook Group & Twitter)
Logo/Name digitally displayed throughout conference area, including during banquets and refreshment breaks
Sponsorship acknowledgement by IACM leadership at conference events (opening banquet, awards ceremony, etc.)
Sponsorship acknowledgement by IACM at pre- and post-conference workshops and events
Full-page color advertisement in conference program
Registration bag inserts
Gold Sponsor ($5,000):
Logo/Name displayed prominently in registration area and on all IACM conference publications
Sponsorship acknowledgement in direct emails to members and attendees pre- and post-conference
Sponsorship acknowledgement on IAfCM.org homepage, sponsorship page, and social media (Facebook Group & Twitter)
Sponsorship acknowledgement by IACM leadership at conference events (opening banquet, awards ceremony, etc.)
Full-page advertisement in conference program
Registration bag inserts
Acknowledgment during banquet statements
Silver Sponsor ($2,500):
Logo/Name displayed in registration area and on all IACM conference publications
Sponsorship acknowledgement in direct emails to members and attendees pre- and post-conference
Sponsorship acknowledgement on IAfCM.org homepage and sponsorship page
Sponsorship acknowledgement by IACM leadership at conference events (opening banquet, awards ceremony, etc.)
Half-page advertisement in conference program
Registration bag inserts
Bronze Sponsor ($1,000):
Sponsorship acknowledgment on IAfCM.org
Sponsorship acknowledgment at Opening Banquet
Quarter-page advertisement in conference program
Registration bag inserts
Exhibitor ($1,000):
Exhibition table and setup in conference break area or other location deemed by the conference team to be of high foot traffic
Exhibitor acknowledgment on IAfCM.org
Half-page advertisement in conference program
Acknowledgement and information sharing on social media (Facebook Group & Twitter) via direct posts, tweets, and retweets leading up to and during conference
Registration bag inserts