Q & A with Laura Rees – IACM 2018 Conference Chair
1. Tell us a bit about your role as Conference Program Chair.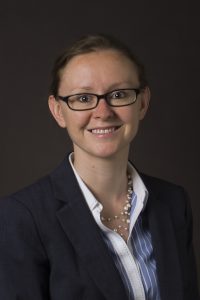 I consider my role as Conference Program Chair to make sure that we have the best IACM conference possible. This involves managing the submission and review and acceptance processes as well as arranging an exciting program based on the excellent submissions that are accepted. I encourage everyone to submit their work—I think we will have a fantastic conference in Philly! I'm very honored to be able to play a part in making that happen, and in giving people an opportunity to present their wonderful work to such a thoughtful and engaging group of scholars and practitioners.
2. When did you start attending IACM and what have the conferences meant to you?
My first IACM was in Leiden in 2014. I fell in love immediately. Everyone was so welcoming, so open to talking with me and interested in hearing what I had to say; as a graduate student at the time, I found it hard to believe that such amazing people would care what I thought! They made me feel like part of the group. I learned so much at that conference from meeting people, hearing impressive presentations, and being able to absorb so many perspectives and insights from everyone. I feel the same each conference. Going to IACM is a highlight of my year.
3. What's your favorite memory from any IACM conference?
Gosh, this is a hard one! I'm honestly not sure how to pick just one. I do have one memory, though, that I think illustrates the spirit of IACM really well and was just a lot of fun. My first conference, I landed in Amsterdam and was pretty jet-lagged. Wolfgang Steinel had kindly agreed to pick up a few of us from the airport, but he was running late. A few of us waiting found each other and starting chatting. Suddenly this smiling and suspiciously energetic man approaches us, introduces himself as Wolfgang, and we pile into a white passenger van for the drive back to the conference venue. There was some traffic (I think that's why he'd been late), but everyone in the van immediately introduced themselves and we had a lively conversation all the way back. Remember I didn't know any of these people at the time, so already I was impressed at how warm everyone seemed. We get to the conference venue and are unloading our suitcases from the back of the van and I think I was last to grab my bag from the back. Suddenly people started yelling at me. I couldn't make out what they were saying but realized that they were yelling at me to get out of the way—the van's parking brake hadn't fully engaged and the van was starting to roll backward! Needless to say, I can move pretty quickly when at risk of being run over (albeit slowly) by a rogue passenger van. This story still makes me smile, Wolfgang and I are still friends—as are many of us from that first van trip—and I think it nicely illustrates the camaraderie and fun, energetic, and caring attitude of so many IACMers. I know I said this before, but it immediately felt comfortable. Now IACM every year just feels like a happy reunion of friends. It's like going home.
4. What are you most looking forward to at the Conference in Philadelphia?
I wish I could say Philly cheesesteaks, but I can't! (Sorry, Deb, and everyone else from Philly.) I hate them, actually. Of course, my real answer is the people. As you can tell from my responses above, this group feels like family. I'm really looking forward to seeing old faces again (sorry, not "old," I mean…familiar faces…) and making new friends, too. Please come say hello to me if I haven't met you yet! I can't wait to see everyone.
5. Anything new or noteworthy about this year's conference that you would like to share?
I think we'll have an amazing lineup of presentations and sessions and I'm really looking forward to seeing everyone's submissions. We've streamlined the submission guidelines and procedures to help smooth the processes throughout, from submission to reviewing to acceptance and presentation. My goal is to make the conference submission and review process seem seamless for you, and to ensure that you arrive in Philadelphia to a thoughtful, well-organized, and exciting program. YOU are the ones who make IACM so wonderful, so I'd like to encourage everyone to submit their papers and novel session ideas and to book their calendars already for July 8-11. Philly is one of the United States' classic cities so we're looking forward to welcoming you here!