By Azin Aliabadi and Kristen Rucki of the AC4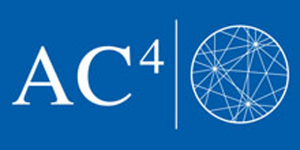 1. The Advanced Consortium on Cooperation, Conflict, and Complexity (AC4) works to enable and support integrative research and practice on sustainable 
peace, constructive conflict engagement, and sustainable development. This is built on an understanding that building peaceful and sustainable societies requires a systemic approach that leverages the expertise and knowledge of scientists and practitioners from across disciplines and areas of practice. By connecting thought leaders at Columbia University and around the world, AC4 works to build opportunities to apply leading-edge science to generate solutions for some of our most pressing social and environmental challenges. 
First established in 1997 as the Columbia University Conflict Resolution Network, AC4 was launched in 2009 through the support of the Provost's office and The Earth Institute in order to provide a hub for work around the university on Peace and Conflict. Founded on the intellectual traditions of Kurt Lewin (MIT) and Morton Deutsch (Columbia), AC4 incorporates elements of complex systems, environmental science, psychology, communication, and peace and conflict studies to forge novel approaches to research, practice, and policymaking.
AC4 serves as a network hub for communication, coordination, and community-building around peace and conflict at Columbia, and provides educational offerings for students, decision-makers and community stakeholders on leading-edge approaches to conflict engagement, peacebuilding, and sustainability. 
AC4 also leads four innovative, interdisciplinary signature research initiatives: Youth, Peace and Security; Environment, Peace, and Sustainability; Women, Peace and Security; and Complexity, Peace and Sustainability. 
2. At AC4, we're pleased to have a longstanding partnership with IACM. Since 2011, AC4 has helped give students from historically underrepresented groups and students from developing countries the opportunity to present their research at the IACM Annual Conference.  Scholarship recipients, or IACM Fellows, are given a funding award and are invited to attend an AC4-sponsored reception at the conference. In 2016, we were honored to host the IACM Annual Conference at Columbia University. This year, we are looking forward to sponsoring a new cohort of IACM Fellows to attend the Annual Conference in Dublin. 
3. 2019 marks AC4's tenth year at Columbia University. Recent highlights include co-hosting the launch of the Women, War and Peace II documentary series, which featured a conversation with series producer Abigail Disney, Leymah Gbowee, Executive Director of AC4's Women, Peace and Security Program, and a panel of award-winning filmmakers, and preparing for our 7th annual Sustaining Peace Forum, to be held on March 28, 2019. We are also pleased to announce the launch of our Youth, Peace and Security Leadership Program for youth and community leaders. As part of this program, a  cohort of youth changemakers representing a variety of geographic and thematic areas will come together as a critical learning community to learn from and with each other, both virtually and in person.  We recently released our 2018 Year in Review, which can be accessed here.